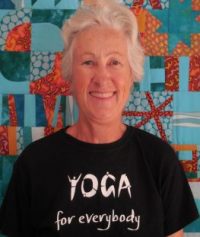 Sue Brittain
Co-ordinator of Yoga for Everybody
Sue Brittain has completed the 3 year Diploma of Yoga Teaching at Mangrove Yoga  Centre and has been teaching yoga at Bulli since 2000. Initially teaching 1 class, since 2003 Sue has taught up to 8 different day and evening classes for all levels from Beginners to Advanced. As her business name suggests this is 'Yoga for Everybody' including all ages, all body shapes and sizes, all levels of health, fitness, mobility and yoga experience.
As well as running regular classes Sue has taught yoga for clients and staff of community & government organisations. Since 2000 she has also taught yoga to groups with specialised needs and health issues including: seniors, arthritis, anxiety and depression, culturally and linguistically diverse communities, survivors of sexual abuse, Vietnam Veterans and their partners, problem gamblers, domestic violence victims, deaf and hearing impaired.
For 15 years she regularly taught at Mangrove Yoga Centre co-ordinating Yoga Relax Weekends and Meditation Weekends and assisting in the Yoga Studies Diploma and Yoga Teacher Training. Prior to yoga teaching Sue trained as a Social Worker and worked for over 20 years as a community worker in the Illawarra and SW Sydney with a diverse range of groups & communities. She also completed a Dip Ed in Adult Education and taught in the Community Welfare section at TAFE.
In 2019 Sue completed the Mindfulness Based Stillness Meditation teacher training with the Gawler Foundation in Victoria. She offered her first Mindfulness Meditation Course in 2019 and continues to offer this Course Live and Online with Zoom.
With Jen Wood and Orietta Worthington joining the team of Yoga for Everybody has enabled Sue to teach the Mindfulness Meditations Courses whilst still offering the same number of Yoga classes.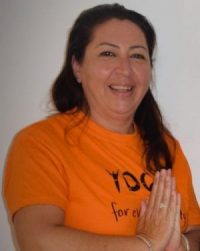 Orietta Worthington
Yoga Teacher
Orietta Worthington is fully qualified Yoga Teacher who has been practising yoga since 1989 whilst at Uni and throughout her pregnancies. During 2019 she taught classes from home and Bulli and in 2020 she started teaching classes with Yoga for Everybody. Orietta has become a popular and very valued teacher of the team. She is also a psychologist and qualified life coach with over 25 years experience working in health settings, juvenile justice, schools, university and private practice. Over the past three years, the bridge between psychotherapy and yoga has been seamless, as the techniques of the two modalities are so supportive of one another. Through a deepening of her own yoga practice, further study and sharing of yoga, Orietta has witnessed the profound effects that holistic yoga practices can have. Her yoga classes bring together this vast background to support individuals to enhance their own cognitive, emotional and spiritual wellbeing in daily life.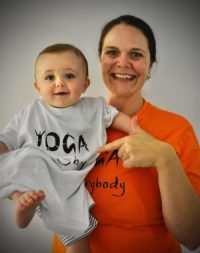 Jen Wood
Yoga Teacher
Jen Wood is currently on maternity leave with her new baby Benny. We look forward to her being back with us again soon She has been practicing yoga since around 2005 and teaching since 2015. Jen has taught all levels of classes for Yoga for Everybody since 2016 and has become a very popular and well respected teacher on the team.
Despite attending semi-regular classes for several years, it was a profound and deeply moving experience during a course at Mangrove Yoga Centre in 2012 that changed the course of her life toward all things yoga and wellness. Since then, she has completed a two year Diploma through the Academy of Yogic Science (Australia, 2015), a 200hr yoga teacher training through Himalayan Yoga Bliss (India, 2016), a 300 hour Level 2 teacher training through Purna Yoga, Byron Bay (2018), and a teacher training course specifically focused on yoga for anxiety, depression, trauma and body image (Sarah Ball, 2019). She has had the pleasure of practicing under the guidance of master teachers in Australia, Mysore, Rishikesh, Kerala, Tiruvanamalai, Darjeeling, Ubud and Bihar School of Yoga (BSY).
I have been very fortunate in attending yoga and meditation classes run by all three of these amazing teachers over the years.  Sue, Jen and Orietta are all incredibly gifted in their teaching skills and have made a huge difference in my life – I have learned how to meditate which I am so grateful for and the yoga classes are just so relaxing and calming. 
Anne, 68